 Welcome to the Alexandria Sportsman's Club Supporting high school student-athletes since 1947 Supporting the Community since 1947 Awarding thousands of dollars in college scholarships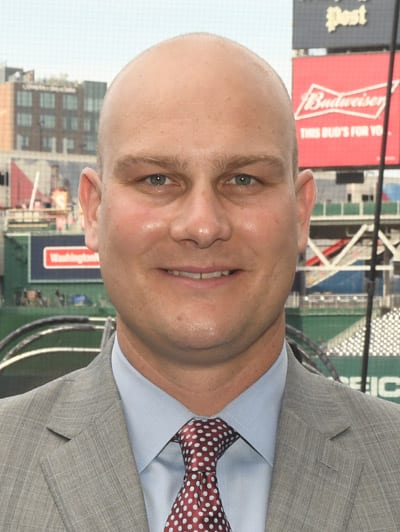 January 20th Meeting with the Washington Nationals!!
---
Mark Scialabba, entering his 15th season with Washington, was promoted to his current role of Assistant General Manager, Player Development in November of 2019 after serving the previous six years as Washington's Director of Player Development. In this new position, Scialabba's responsibilities include the Major League operation assisting Mike Rizzo, the front office and Major League staff. He continues to work in conjunction with Doug Harris overseeing all aspects of the player development system, including player plans, player personnel decisions, analytics, contract negotiations, budgets, Dominican Academy operations, and medical/training programs.
Join us via Zoom to hear about his job and the upcoming season.
Registration
Who We Are
---
The Alexandria Sportsman's Club, founded in 1947, is a nonprofit and civic organization. Our club is entirely made up of volunteers who freely give of their time in order help the youth of Alexandria, Virginia by supporting local high school student athletes.
The ASC recognizes the achievements of our young student athletes on the field and in the classroom. Our mission is to promote athletic and scholastic achievement among Alexandria's youth; and celebrate local sports camaraderie and history. We urge you to learn more about our unique organization. Everyone is welcome. Please join us!
Learn More